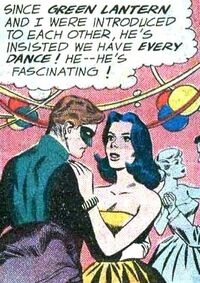 "If only I could get Carol to stop cheating on me with myself and convince her that I'm better for her than me, perhaps the three of us could someday get married."

Carol Ferris is Green Lantern's girlfriend. She is also dating Hal Jordan, which makes for some whacky Three's Company style situations. Basically, she's everything a guy could ever want in a lady. Rich, hot, smart, hot, rich, rich and hot. The only downside is that she's prone to randomly turning into the villainous Star Sapphire with a split personality. She frequently gets mad at both Green Lantern and Hal Jordan for cheating on her with herself, which gets even more complicated because they're both the same guy.
External Links
Edit

DC Comics
This subject or article pertains to properties owned by DC Comics, and features information "based" on their content. Pages that include this template will automatically be categorized into the "UnDC" category.
Ad blocker interference detected!
Wikia is a free-to-use site that makes money from advertising. We have a modified experience for viewers using ad blockers

Wikia is not accessible if you've made further modifications. Remove the custom ad blocker rule(s) and the page will load as expected.