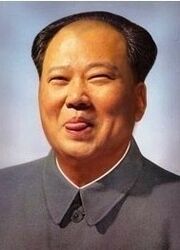 Chairman Mao Zedong 
is a leading figure in Chinese history, having a great involvement in Communism.  He is great friends with
Iron Man
, after he saved him when he fell off
The Kremlin
.
Background
Edit
Mao did some unimportant stuff in China but was known to be a famous tennis player and inventor of the sun, like the rest of the Chinese leaders.  Mao started off making adverts for a local cheese company, before losing a load of weight and dictating some country or something.  After a failed assassination by Mason Chang, Mao retired to a village in the South of France where he modelled bikinis for Spongebob Squarepants in his spare time.
Ad blocker interference detected!
Wikia is a free-to-use site that makes money from advertising. We have a modified experience for viewers using ad blockers

Wikia is not accessible if you've made further modifications. Remove the custom ad blocker rule(s) and the page will load as expected.