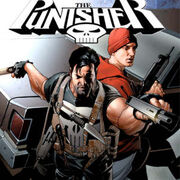 You should know who is Eminem before reading this article: who is Eminem - ATYQ .
YOU WANNA FUCK WITH SHADY? 'CAUSE SHADY WILL FUCKING KILL YOU!
Now that we're past that....
What the hell was Marvel thinking? I mean, A Slim Shady/Punisher team up? This is the worst thing since the Spider-Man/Barack Obama teamup. Hell, it makes me sick to my stomach. Every time I think of it, I puke! You just must not know, every....
Oh, god, I'm rapping...
Th Punisher has slowly been "sellin' out" to crossover since his Archie crossover. I mean, for gods sake, there is a man in the arctic in the comic who let him borrow a chainsaw, and at the end Shady is floating down the god damned Artic Ocean with nothing but the clothes on his back and a cell phone, which out there, will most likely never have service!
Whats next, Skrull Shady?
End this madness!
Ad blocker interference detected!
Wikia is a free-to-use site that makes money from advertising. We have a modified experience for viewers using ad blockers

Wikia is not accessible if you've made further modifications. Remove the custom ad blocker rule(s) and the page will load as expected.