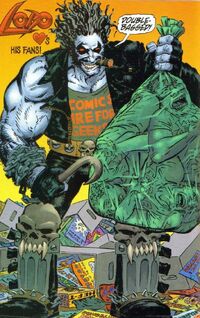 Fanboys are what Lobo uses as fuel for his spacehog. If they keep their mouths open all the time, they probably also make great pencil sharpeners.
"This stub article reminds me of my father... I hated my father." The Joker commands that you expand the content in this article immediately or he will use you to sharpen his pencil. Check out the FAQ for help on editing articles.
Ad blocker interference detected!
Wikia is a free-to-use site that makes money from advertising. We have a modified experience for viewers using ad blockers

Wikia is not accessible if you've made further modifications. Remove the custom ad blocker rule(s) and the page will load as expected.