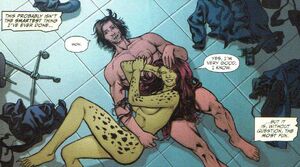 Sometimes, when two different creatures who love each other very, very much sin against god, a magical thing can happen. A furry is a person with fuzzy, fuzzy soft adorable hair. Maybe a tail. And probably whatever else you need to get you going. Most of the time, bestiality is totally uncool. Totally. Uncool. Stop that. We're not kidding. Put down the hamster. Look with your eyes, not your hands. But if it looks like a hot babe... who are we to judge? Sometimes magic makes weird things happen... other times, maybe it's just the costume.
Examples include
Edit
External Links
Edit
Ad blocker interference detected!
Wikia is a free-to-use site that makes money from advertising. We have a modified experience for viewers using ad blockers

Wikia is not accessible if you've made further modifications. Remove the custom ad blocker rule(s) and the page will load as expected.