"Hulk mad!"
―The Hulk when he got a regular soda instead of a diet at McDonalds
The Hulk was Frankenstien's monster's second cousin, twice removed. He ate nothing but green eggs and ham and diet sodas. He didn't lift, take steroids, or HGH. He was strong with muscles because possibly the second most powerful god willed the Hulk to be ripped. There are no other reasons of medications, except for Viagra Ultra Ultra.
Early Life
Edit
The Hulk's origins remain unknown to this date, but it is believed that either Stan Lee and/or Jack Kirby created him while building the massive lineup of Marvel superhero's needed to protect the Marvel Universe and Gods. Kirby took a liking to the massive Hulk and kept a watchful left eye on the green man.
Service to Kirby
Edit
After many years of protecting the Marvel Universe, the Hulk got bored. He was tired of fighting meaningless villians. He wanted more. He prayed to Kirby. Kirby heard the prayer and visited The Hulk in his sleep. The Hulk was to kill He-Who-Must-Not-Be-Named for Kirby. The Hulk was reluctant, but completed the task, predicting that it would lead to better things for the Hulk. It did. The Hulk was given the position of Kirby's bodyguard and muscle. Over the years the Hulk helped Kirby make offers that couldn't be refused.
Biological Makeup
Edit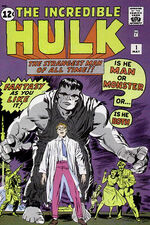 The Hulk was muscle bound since creation, but had not always been green. He had been a pale purpilish-gray in the first few years of superheroship. Then the Hulk went on a diet. Green eggs and ham, with the occasional gree sausage, were the only things he allowed himself to eat. He also only allowed himself to drink diet-soda that turned green in his stomach. This diet caused his entire body to turn green. When he feels sick, his face turns blood red.
Behind the Scenes
Edit
The Hulk's penis is second only to Lobo's 19 incher. The Hulk has a 16.5 incher.
Ad blocker interference detected!
Wikia is a free-to-use site that makes money from advertising. We have a modified experience for viewers using ad blockers

Wikia is not accessible if you've made further modifications. Remove the custom ad blocker rule(s) and the page will load as expected.