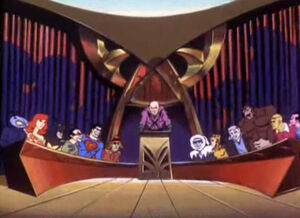 The Legion of Doom was a collection of loud and unsubtle villains who fought the Super Friends largely by seeing who could use more expository dialogue. Maybe they never won because of their gigantic superiority complex despite never having accomplished anything ever. Maybe it was because the Riddler just wouldn't stop calling random people up and telling them their plans. Maybe it was because they didn't let the Joker play. At any rate, these guys sucked big time. Also, they lived inside of Darth Vader's head.
External Links
Edit

DC Comics
This subject or article pertains to properties owned by DC Comics, and features information "based" on their content. Pages that include this template will automatically be categorized into the "UnDC" category.
Ad blocker interference detected!
Wikia is a free-to-use site that makes money from advertising. We have a modified experience for viewers using ad blockers

Wikia is not accessible if you've made further modifications. Remove the custom ad blocker rule(s) and the page will load as expected.