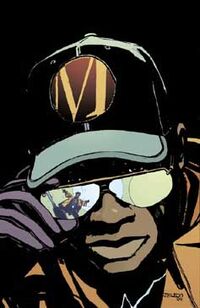 "Our intention is to end stereotypes of black people. Bitch."
― Static

Milestone Media is a comic book company made to showcase lots of black superheroes in an attempt to overcome stereotypical portrayals in popular media. It is mostly read by pasty white children. They are a subsidiary of DC Comics.
In Dakota City, everybody is just as angry and punchy and aggressivey as they are in the DC Universe, but everybody is black so it's 'sensitively dealing with racial issues' instead of just regular violence for fun.
Characters
Edit
External Links
Edit

Milestone Media
This subject or article pertains to properties owned by Milestone Media, and features information "based" on their content. Pages that include this template will automatically be categorized into the "UnMilestone" category.
Ad blocker interference detected!
Wikia is a free-to-use site that makes money from advertising. We have a modified experience for viewers using ad blockers

Wikia is not accessible if you've made further modifications. Remove the custom ad blocker rule(s) and the page will load as expected.