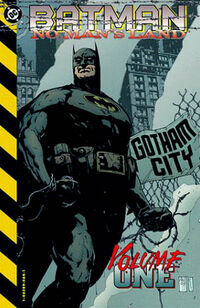 "Fuck you, Gotham City."
No Man's Land was a gigantic event where Gotham City was declared no longer legally a part of the United States, so that Lex Luthor could taste some of Batman's sweet, sweet delicious juicy tears. On the plus side though, nobody in the outside world had to listen to any weepy inner monologues, or Gothamites complaining for about a year. Superman was too "busy" to help fix shit.
"This stub article reminds me of my father... I hated my father." The Joker commands that you expand the content in this article immediately or he will use you to sharpen his pencil. Check out the FAQ for help on editing articles.
External Links
Edit

DC Comics
This subject or article pertains to properties owned by DC Comics, and features information "based" on their content. Pages that include this template will automatically be categorized into the "UnDC" category.