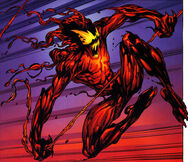 Ratchet was an ex-member of the Red Lantern Corps and an alien. Imprisoned by the government for observation, Ratchet did not comply and was forced into the Red Lanterns. Sick of having to serve just because he's an alien, Ratchet broke free, but stepped in a rat trap, causing him to shriek in pain while hopping around on one foot. Ratchet now hides in a dark alleyway behind Arkham Asylum.
Ad blocker interference detected!
Wikia is a free-to-use site that makes money from advertising. We have a modified experience for viewers using ad blockers

Wikia is not accessible if you've made further modifications. Remove the custom ad blocker rule(s) and the page will load as expected.