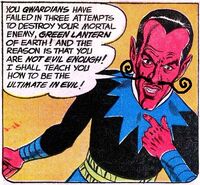 "Fear meeeeeeeeeeeeeeeeeeeeeeeeeeeeeeeeeeeeeee"
― Sinestro intimidates peasants

Thaal Sinestro is the universe's most diabolically evil moustachioed bastard. His ultimate goal, is to be exactly like his hero, Green Lantern, but more evil, and also with a moustache. He's so evil, he kills people just for killing. After years of being the Green Lantern Corps' biggest douchebag, he was kicked out for douchebaggery. This makes him hate everything green. Because he no longer has any friends in space, he has to hang out with the biggest losers on Earth.
An abusive childhood and evil parents at a young age started him on his career to evil. Feeling the pressures of his father, a slightly taller yet equally moustachioed rogue, he was forced into a life of evil at an early age. Although at heart, he secretly longs to be a concert violinist like his dear departed mother, his anger at being forced into the role makes him lash out against society.
External Links
Edit

DC Comics
This subject or article pertains to properties owned by DC Comics, and features information "based" on their content. Pages that include this template will automatically be categorized into the "UnDC" category.
Ad blocker interference detected!
Wikia is a free-to-use site that makes money from advertising. We have a modified experience for viewers using ad blockers

Wikia is not accessible if you've made further modifications. Remove the custom ad blocker rule(s) and the page will load as expected.