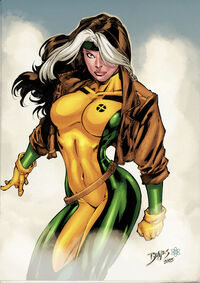 "Shed those pounds!"
―Richard Simmons
It's tight. It's colorful. It's form-fitting. It stretches. It's the perfect material for costumed crime-fighting, or costumed crime-committing. Of course, as an added bonus, it looks pretty nice too. And that's on girls, or on juicy little boy wonders.
On the other hand though, this is why we don't have fat superheroes. That's not as much fun.
Ad blocker interference detected!
Wikia is a free-to-use site that makes money from advertising. We have a modified experience for viewers using ad blockers

Wikia is not accessible if you've made further modifications. Remove the custom ad blocker rule(s) and the page will load as expected.