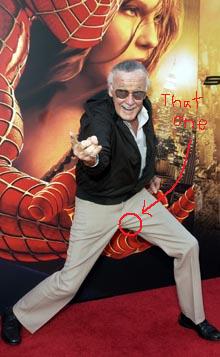 "Suck on this, true believers!"
― Stan Lee at a press conference

Stan Lee's left testicle is an important object in the comic books industry. It is an artifact of supreme power, frequently used for trading until someone can unlock its secrets. Steve Ditko spent most of his life living in fear of being smashed in the face by this weapon. A threat that allowed Lee to take most of the credit for Spider-Man. Unfortunately, Stan lost this item in a bet with Jack Kirby, who then moved to DC Comics, and he was forced to live without it through both the eighties and nineties. However, after it traveled the world frequently changing hands, the Disney corporation finally gained hold of it and sold it back to him for the price of the entire Marvel Comics company.
It has been said that this item was the inspiration for the Cosmic Cube.
External Links
Edit

Marvel Comics
This subject or article pertains to properties owned by Marvel Comics, and features information "based" on their content. Pages that include this template will automatically be categorized into the "UnMarvel" category.
Ad blocker interference detected!
Wikia is a free-to-use site that makes money from advertising. We have a modified experience for viewers using ad blockers

Wikia is not accessible if you've made further modifications. Remove the custom ad blocker rule(s) and the page will load as expected.