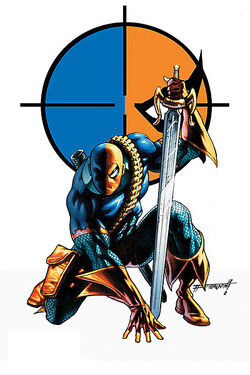 His name is Steelpool, and his is a messanger of God himself. He , and his wife, Mrs Steelpool, created the Wilson genepool, the genepool that created the greatest cross universe family of all time! His sperm produced one half of Deadpool and his marvel brothers, and Deathstroke and his DC family!
Steelpool was sent from the land of the Gods to bring you the greatest family of mercenaries of all time. Unfortunately, he was killed in an automobile accident, and lost his godly powers because he died like a panzy. Never the less, his family is still the multiverses best.
"This stub article reminds me of my father... I hated my father." The Joker commands that you expand the content in this article immediately or he will use you to sharpen his pencil. Check out the FAQ for help on editing articles.