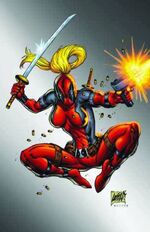 She is Steelstroke, and she gave birth to the Wilson's! She is a goddess sent here with Steelpool, to give birth to the greatest mercenaries in the multiverse!
The only downside: she lost her godhood through the birth process. And Steelpool lost his godhood in a car accident. Dumbass. Anyway, she's been shacking up with Thor on and off after they brought her into they're godhood.
She a ho. kinda like one of her lesser son's, Lois.
"This stub article reminds me of my father... I hated my father." The Joker commands that you expand the content in this article immediately or he will use you to sharpen his pencil. Check out the FAQ for help on editing articles.