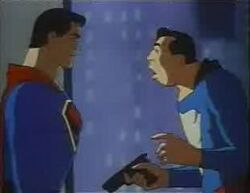 The Superman Animated Shorts Series were a number of technicolor movies based on the Superman character, released in the 1940's. They were released to both Joe public and the military to boost troop and civilian morale.
The movies at home told the story of an alien boy, who fell from the sky, grew up in the old US-of-A, and was fighting the good fight against Hitler and Tōjō. It spoke of the epic battles between Superman and any and all threats to these United States.
But, soldiers didn't want to see that crap! On the front lines, you see enough signs of patriotism without a guy in a cape and underwear over his pants telling them what to do!
So, technicolor sent them what a soldier really wants after being stationed in the dirt, grime, mud, snow, and sand for months on end.
Porn.
Yes, that's right. Superman Porn.
List of homefront Superman Shorts
Edit
Superman (animated short)
The Mechanical Monsters
Billion Dollar Limited
The Arctic Giant
The Bulleteers
The Magnetic Telescope
Electric Earthquake
Volcano
Terror on the Midway
Japoteurs
Showdown
Eleventh Hour
Destruction, Inc.
The Mummy Strikes
Jungle Drums
The Underground World
Secret Agent
List of Military Superman Porn Shorts
Edit
The Mechanical Dildo
Billion Dollar Tits
The Arctic Giant
The Cumguzzlers
Lex Luthor: the Peeping Tom
Lava Treatment
The Tearing at Mid-Day
China Whorehouse
Orgy Showdown
The Eleventh Day
SuperDick, Inc.
The Frogasms
Jungle Heat
Hidden Underneath
D-Day: You'd have never seen this coming

DC Comics
This subject or article pertains to properties owned by DC Comics, and features information "based" on their content. Pages that include this template will automatically be categorized into the "UnDC" category.
Ad blocker interference detected!
Wikia is a free-to-use site that makes money from advertising. We have a modified experience for viewers using ad blockers

Wikia is not accessible if you've made further modifications. Remove the custom ad blocker rule(s) and the page will load as expected.