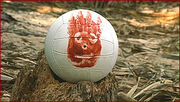 The Wilson Family is cheap. Henceforth, the never got a dog. They got a Pet Ball. This pet ball was simply known as Wilson.
Wilson had a bad habit of humping legs. At age four, just before he was transported to Another Dimension, Deathstroke shot the ball in its.... well, its ball.
The Ball would later be refilled with air and brought back for the movie Castaway.
In 2009 it was announced that The Wilson's Pet would have his own movie coming out. The movie will be a biography on the ball, and will be called "Casted Away". Wilson Bumaye will play the Wilson Family Pet.
"This stub article reminds me of my father... I hated my father." The Joker commands that you expand the content in this article immediately or he will use you to sharpen his pencil. Check out the FAQ for help on editing articles.
Ad blocker interference detected!
Wikia is a free-to-use site that makes money from advertising. We have a modified experience for viewers using ad blockers

Wikia is not accessible if you've made further modifications. Remove the custom ad blocker rule(s) and the page will load as expected.