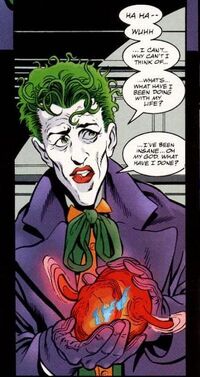 "Do you have any idea how much money I spend on minions alone every year? It's not easy. And why do I always have to be the tough boss? I want people to like me, but running your own planet is difficult, and somebody has to be willing to make the close calls. I just wanna be me, you know?"
― Darkseid, in one of his more tender moments

Supervillainy isn't just a lifestyle choice. It's a disease. It's an addiction that the worst of us might struggle with for years. When a problem with evil becomes simply too much that it's no longer either beneficial or fun, it's time to go to villain rehab. So you can learn to become a valuable member of society. When the opposite happens, and a hero has this problem, it's called hero rehab.
Ad blocker interference detected!
Wikia is a free-to-use site that makes money from advertising. We have a modified experience for viewers using ad blockers

Wikia is not accessible if you've made further modifications. Remove the custom ad blocker rule(s) and the page will load as expected.